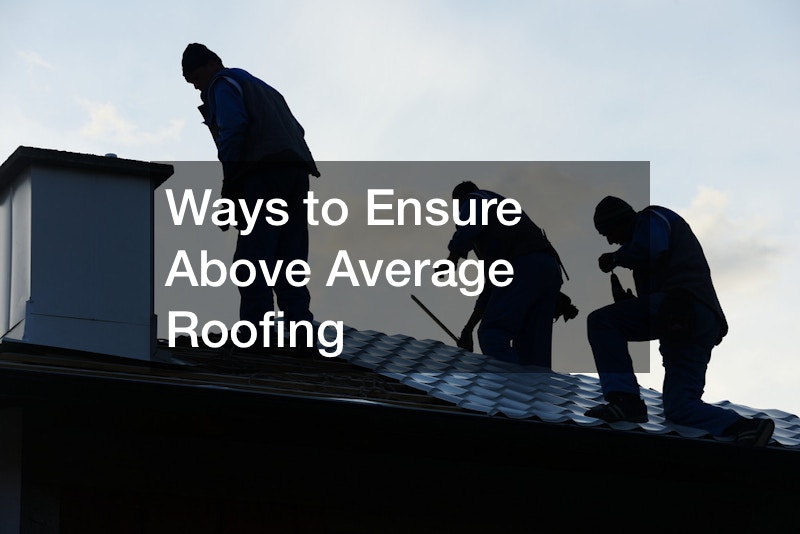 Ways to Ensure Above Average Roofing
Your roof is one of the most critical parts of your home. It protects you from everything, including heavy downpours, ice, and the scorching sun. Therefore, you want to ensure it's always in good condition. One of the best ways to get a good roof is to hire the right roofing contractor. Whether you want a simple repair done or are considering a replacement, a roofing contractor can make all the difference when it comes to getting above-average roofing.
So how do you ensure you have the right team for the job? Well, there are many things you can do to ensure you get the best contractors in your area. We've put together a list of things you can do to ensure you get above-average roofing.
Assess Your Needs
As a homeowner or business owner, it's your primary responsibility to know your roofing needs. If you are installing a new roof, make sure you know the material you want to use on your new roof and that you have checked the market prices for that material. If you're new in the area, check what your neighbors have installed and talk to a few before making your decision. There's always a reason why your neighbors would use the same material. In most cases, it's due to the weather in that region. Some roofs are more prone to storm damage than others. The color you choose also plays a significant role in the home's overall appearance.
Be sure to ask a local roofer about the pros and cons of the roof you've chosen and get recommendations. You also want to consider the duration the project will take, because it's always a good idea that you're present during the project from inception to completion. You need to decide when you will be available and work on that timeline. Remember, the season matters. For instance, installing a roof during winter may not be a good decision.
Research Roofers
The next step in hiring people to repair or replace your roof is to conduct thorough research on the features of a good roofer. Roofing projects are not small projects. You will need to work with the team for some time, which means you need to be comfortable around them for efficient communication. A good roofer should answer your questions and communicate any changes promptly. They should deliver projects within the agreed timeline and work within your budget. Professional roofing contractors must be bonded, insured, and licensed. You should ask for copies of these documents before hiring. Most companies also offer warranty for their work. That means if you notice a problem with your roof after it's done, you can call the company, and they will fix the issue at no charge.
Read Reviews
A good roofing contractor is essential, no matter the length of a project. To maintain above-average roofing, you need a dedicated team that checks on your roof thoroughly during the inspection, advises you on maintenance, and fixes any issues before they become costly. You can seek recommendations from your friends, family, and colleagues to find your local residential roofing contractors. Check the names of these companies online to know what other clients have said about them. Read reviews and compare ratings before making a decision. Remember, roofing contractors may specialize in different areas.
Some of the most common roofing services include insulating, roof inspections, ventilating, repairs, maintenance, roof cleaning, debris removal, weatherproofing, shoveling, roof or gutter cleaning, and many more. Therefore, ensure you get a roofer specializing in the service you want. Remember, there will always be one or two negative reviews. Don't make a decision based on those. Instead, check for common complaints and how the company has addressed them. If they have addressed most of these, then you don't have to worry about encountering the same.
Ask As Many Questions As Possible
Once you know the right contractors who match your roofing needs, the next step is to interview them to learn more about their services and compare responses. This is an excellent opportunity to ask all the questions you have that will help you determine if a company is a great fit or not. You can call or visit the company physically and pay attention to how the service providers respond to your questions. If they are friendly and professional and answer your questions in detail, you're in the right hands. However, if you notice you're receiving brief answers or too detailed answers that don't respond to the question, don't risk signing a contract.
Remember, you're looking for a contractor to install and maintain your roof for the longest time. Therefore, you don't want to gamble in terms of experience. Some of the questions you can ask include how long the company has been in business, whether the business is local, whether they're licensed and insured, whether they hire or outsource some parts of their projects, and who will be on the team that will work on your roof.
Find Out About Costs
Roofing projects, particularly roof replacement or installation, can be significantly costly. Therefore, you want to ensure you have enough money to start and complete your project. You can get written quotes from the companies on your list and see which ones work with your budget. Remember, some roofing materials can be more expensive than others, but some contractors can help get discounted prices as they often partner with them. Working with a company that can negotiate the price for you is crucial as you're guaranteed lower prices, faster delivery of materials, and lower shipping costs.
Professional companies should provide written estimates with timelines and no hidden costs. Of course, this price could change, and that's why it's an estimate. The overall cost may likely go up but is not likely to be reduced. You need to allow room for changes, especially the cost of materials. Do your research to know if you're being charged the local standard price. However, keep in mind the variation in other factors such as working style, project duration, experience, project type, and availability.
Learn How Long Construction Takes
Your roofing project duration varies depending on the service you're getting. For a roof installation, the duration varies depending on the material you use, as some materials are more complex to work with than others. For instance, asphalt shingles take one to three days to install. Wooden shingles take six to eight days, while slate tiles take about six days to a week to install.
Inquire how long the installation will take from your roofing contractor and plan accordingly. You may need to move a few things and cover others to prevent damage during installation. Remember, some factors other than materials can affect the overall duration of the project, such as roof accessibility, weather, home size, and replacement method.
Contact Experts
Hiring the best for the job is the only way to ensure above-average roofing. That means choosing quality over affordability. In most cases, established companies with good reputations may not charge the same prices as new or struggling roofers. The same way you won't take your vehicle to a mechanic who is two days into the job is the same way you won't want to work with a new roofing contractor. Therefore, you have to pay more for the experience. The long track record of high-quality work provides peace of mind that your project will be completed without mishaps.
There is a higher chance that experienced roofers have completed a similar project to yours. Therefore, they can anticipate and fix challenges before they become an issue. It also means they will be more accurate in the estimates, and the project will take a much shorter time.
Inquire About Competitors
Like any other product or service, having multiple roofers in mind can be an excellent idea, especially if you have multiple projects. Remember, you don't have to stick to a general contractor if you're not confident about their work. Enquire about competitors from your friends and family to know what people feel about them. Even if you don't hire them, you can contact them for other services.
With plenty of roofers coming up every day, you will have plenty of options to choose from, which increases your chances of getting the project done well. Check what competitive roofers are doing differently and how their skills and technology can transform your project. Remember, you have only one goal, to achieve above-average roofing. Therefore, don't be afraid to go for what you believe is valuable.
Know About Tree Companies
If a tree causes damage to your roof, you need to call a tree removal service before contacting your roofing contractor. Large trees near a home provide beauty, shade, and fresh air around your home. Some provide fruits you can enjoy with your family every season. However, with all these benefits comes a high risk that you may not be in control of. Trees near your home can fall during storms and cause property damage or injuries. Unfortunately, you cannot tell where the tree will fall when it does.
If you're dealing with a roof that has been damaged by a fallen tree, get a professional to remove it. Professional tree removal service providers have the right tools and equipment to remove trees safely and efficiently without causing further damage. You can repair the roof, especially if it's fairly new, instead of replacing it, which can be costly. However, if the roof is old, consider replacing it.
Check Your Chimney Status
Problems stemming from a neglected chimney can cause significant damage to the rest of your house, particularly your roof. Whether it has cracked edges or has never been cleaned, a bad chimney is not suitable for your roof. Knowledge and awareness are fundamental when it comes to achieving an above-average roof. The faster you can detect any problems, the sooner you can solve them and keep your roof in great shape. If your chimney is not cleaned regularly, the creosote, the brown or black residue that collects on the inner surfaces of the chimney flue liner, is highly flammable.
When allowed to build up, it can cause fire, and the heat can reach your home's wooden framing and other combustible materials. Calling a chimney sweeper can help check for dirt and damage, such as cracks. You can also invest in a chimney cleaner to keep your chimney clean and prevent any roof damage.
Investigate for Leaks
We all dread that drip of a leaky roof. However, you don't have to let things get that far if you can detect signs of leaks. Knowing how to detect roof leaks starts by identifying the telltale signs that a roof is leaking. After a storm, you want to inspect your roof thoroughly to ensure no damage could lead to leaks and water damage in your home. Signs of a leaky roof may include a water stain on the ceiling or walls, musty smells or moldy odors, bulging exterior siding, rust on metals around the areas, and missing or damaged shingles.
Calling a roofing contractor when you spot these signs can save you from costly damage as the problem can be fixed. When checking for a leak, it's essential to investigate the attic. Check for water damage in those areas and the presence of a leak. If you notice any, don't attempt fixing it yourself. Call your local roofer to fix the issue and determine the cause.
Prevent Future Water Damage
Water damage is quite common, especially in areas where storms are common. Before the rainy season, it's crucial to get your roof inspected and have all problems addressed. If you have had water damage issues before, consider seeking waterproofing services. Most roofing contractors offer this service to help prevent prolonged water damage. Maintaining your roof and conducting regular inspections helps locate leaks and roof damage and prevents expensive repairs such as mold and mildew.
Achieving above-average roofing is possible when you're armed with the proper knowledge and professionalism. Working with a roofing contractor makes things much more straightforward and faster. Your roofing contractor can perform regular maintenance and fix any issue your roof may have before the damage becomes too costly. Experts recommend learning how to choose the right contractor and knowing the simple signs of a damaged roof. With a bit of help from your roofer, you can get a roof that will serve you for many years.