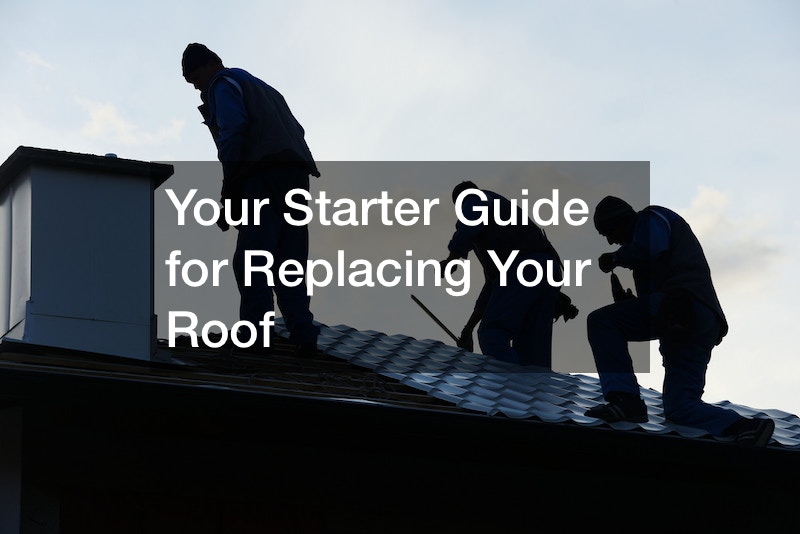 Your Starter Guide for Replacing Your Roof
Every 15 to 50 years, a homeowner must get a roof replacement for their home. Why such a massive range in the number of years? It all depends on the roof type.
Roof Types and Their Staying Power
Asphalt shingle roofs cost the least, but also last the shortest time before needing replacement – 15 years. Some using architectural shingles make it 20 years. Fiber cement shingles need replacing after about 25 years.
Other types of roofing materials last longer, such as wood shakes, also called cedar shakes, make it about 30 years before requiring a roof replacement. Metal roofs, including copper, and clay tiles, also called a California style roof or hacienda roof, can last up to 50 years. The high-end years before the replacement of every roof type depends on the maintenance provided to it.
Choose Materials and Style
When building a home, balance the initial materials cost with the replacement cost and year of future replacement. For example, asphalt shingles cost $4.25 to $8.25 per square foot, but steel roofing costs $8 to $12.65 per square foot. In 50 years, a homeowner will need to replace the asphalt roof three times after the initial installation. The steel roof will only need one replacement which could well occur long after the homeowner who constructed the home moved or passed away.
Using the scenario of owning that one home for a lifetime, asphalt would cost at least, $4.25 per square foot four times, for a total of $17 per square foot. Steel would cost $8 times two, for a total of $16 per square foot. Metal roofs, like those made of steel, copper, or aluminum, hold better against the elements and typically incur less damage over time.
Consider the home and its architectural style, too. Some roofing materials clash with certain architectural styles. Consult with an architect or roofing contractor to ensure the roofing material desired works well with the style of the home. Once the homeowner nails down the roof type desired, it's time to move on to finding the right roofing installer.
Find a Provider
When perusing local roofers for the right installer, keep in mind that a roofer specializing in the installation or repair of a California style roof typically doesn't also install metal roofs or asphalt roofs. Roofers, like doctors, specialize. Only contact and consider each local roofing company that installs the chosen type of roof.
What if no local roofers specialize in the desired roof type? Search the largest nearby metropolitan area and contact potential roofers. Look for large service areas or languages like "serving the city and its surrounding vicinity." Some of these companies will service an out-of-the-way location, but add a travel fee to the bill. Expect to pay at least an extra $100 to $200 for these service providers.
Look at Their Previous Work
Before contracting with a roofer, look at their work. First, consider their online portfolio of residential roofing jobs. Look for the style of roof desired, such as California style roof or cedar shakes. Most roofers specialize in either residential or commercial and industrial roofs, so an industrial roofer won't put on your home's roof.
Second, ask for references of prior clients for whom they installed the exact type of roof, such as a California style roof, desired on the home. Phone these individuals to ask about their experiences and ask them to come by their home to observe the roof. This only requires parking in front of the house and looking from the sidewalk, but it's still nice to ask first.
Allow an Assessment of Your Roof
Next, ask for a roof assessment from each of the remaining roofers on your list. These assessments require a similar roofing check as that of a full roof inspection. It tells the homeowner if they need a new roof or roof repair. It also lets the individual find out if a California style roof would work well on their home or if they need a different type.
The assessment may be verbal or written. Only a quote provides a written description of the state of the roof. If desired, request a full roof inspection from each service provider. Some roofers do not charge for these inspections, but others do.
What's the difference? An assessment may only consider the exterior of your home and how the roof looks from the outside. An inspection looks at the home's exterior and interior. The roofer conducting an inspection considers the attic, roof decking, and other aspects of the roof, including soffits and eaves.
Inspections sometimes cost money to obtain. Assessments usually cost nothing. The more detailed inspection can provide additional information and potential leverage with an insurance company if the roofer uncovers storm damage.
Get an Idea of Pricing
Each company contacted should provide a residential roofing estimate for the installation of a new California style roof. This apples-to-apples comparison proves important when comparing roofer prices. While the manufacturers of the materials used may vary, overall, prices should remain close to the same from quote to quote. Here's why.
Labor costs are the same from company to company because unions in the construction industry broker wage rates with major employers. These rates set by the union apply to every member, so the roofing company with a remarkably lower bid than the others cannot cut a deal on labor. That only leaves materials price reductions for the company to save money on the estimate. The manufacturers set the prices of the materials.
A bid or job quote with a lower price means that the company offers less than high-quality materials. A company can't offer a materials reduction without losing money, so they're either bad at business or not using the same quality of materials that the other roofers do.
Compare Prices
This pile of quotes and job estimates from roofing companies provides a comparison that enables each homeowner to choose the best installer for them. But, if all the roofers cost about the same, what criteria do you use? Read on for a quick rundown:
Scheduling – how soon can each roofer meet the homeowner's needs?
Materials manufacturer – Does the roofer offer your favorite roof, such as TAMKO or GAF?
References – What did other homeowners say about their professionalism, demeanor, job site maintenance, and cleaning, etc.?
Certifications – Many roofing materials manufacturers offer training programs for roofers, so they can earn certifications in the installation and repair of that manufacturer's roofs. Holding these certifications strengthens the warranty provided by the manufacturer for materials and workmanship.
When all quoted prices fall within a close range, choose the roofer with the most experience and the best portfolio, that installs the desired manufacturer's roof.
Ask Final Questions
Narrowing down the number of installers for a California style roof can take time. Coming up with one roofer requires a lot of research, but, after all, the roof protects the entire home and comprises one of the most vital parts of the home. Before choosing a roofer, consider a few other questions, such as how well they work with others.
Most building or renovation projects involve more than one contractor. Ask which local builders the roofer worked with previously. Phone those builders to ask about their experiences.
Also, ask the roofer to provide proof of insurance, especially general liability, construction liability, and builders' or contractors' insurance. They should also provide proof of their local and state business licenses. Check their union membership or registration with the local Chamber of Commerce.
Enquire About Maintenance
It might seem like that's enough information to decide which roofer to use, but, no. Also, inquire with each of the roofing services about maintenance plans. Recall early in the article that we mentioned that proper maintenance can help a roof last its maximum expected age. Whether installing an asphalt roof, California style roof, cedar shakes, or another roof style, the roof will require annual maintenance and inspection.
Every year, a professional roofer needs to inspect the roof for damage and wear and tear. This frequently costs nothing. Some roofers bundle this into their maintenance plan.
The maintenance plan includes cleaning the roof, cleaning out the roofing gutters, and making tiny repairs like replacing worn or broken flashing. Maintenance may also include replacing one or two loose shingles. This inspection and maintenance can uncover larger problems, but it does not cover their costs.
When a homeowner purchases a new roof, the roofer frequently offers a maintenance plan with it. This lets the homeowner purchase a maintenance package for a set number of years of services at the going rate. That means that inflation won't increase the cost of the maintenance plan for however many years it covers.
Not all roofers offer maintenance plan packages. Some only install roofs, leaving the homeowner to find another option for maintenance. It can simplify home upkeep to hire a contractor that performs both types of work.
Sign Off on The Project & Begin
Finally, the homeowner chooses a California style roof and decides on a residential roof construction firm that installs, repairs and offers annual maintenance plans. Eureka! But, wait. Signing the contract begins the work planning process and scheduling of the work.
Keep in mind that many problems might arise to delay work. Regardless of the quality of the roofer, weather issues typically put a few projects per year behind schedule. A homeowner's quest to transition from an asphalt roof to a California style roof might take a few days for tear-off, decking repairs, and new roof placement. Then again, it might undergo weather delays that make it take three weeks.
Preparing for a New Roof
The amazing new roof on a new building doesn't require much planning on the part of the homeowner. If the homeowner lives in an already constructed home, they probably want the work to go as quickly as possible. Staying in a home while it undergoes re-roofing is doable, but not ideal.
Under ideal conditions, a homeowner would only need to spend one night in a hotel, but if weather delays or other issues occur, that hotel stay can lengthen. Budget for at least three nights in a hotel to become pleasantly surprised if it only takes one night away. Re-roofing a house offers the ideal excuse for a weekend getaway or staycation.
After Installation
The roof looks great and instantly adds to the home's curb appeal. The homeowner has a little maintenance of their own to do to keep its sparkling new look. It starts with a schedule.
Every month, the homeowner should walk around the perimeter of the home to survey the roof, eaves, soffits, chimney, visible tiles, shingles, flashing, and roof trim. Note any asphalt granules on the ground or shingles/tiles that the wind blew off of the roof. Also, note any holes, tears, etc. Phone a roofing repair company at any of these damage or wear and tear signs.
Conducting this simple walk-around survey on the first day of each month can save a homeowner lots of money by spotting problems early. Also, make this same personal inspection after a storm to check for immediate damage. At any sign of storm damage, call the insurance agency that issued the home's homeowner's insurance policy. While the homeowner pays for wear and tear damage out of their pocket, insurance typically covers storm damage.
Purchasing a home warranty on top of homeowner's insurance can also protect out-of-pocket expenses. These warranties pay for wear-and-tear items and can save a homeowner money.
When does the roofing warranty cover repairs or replacements?
A roofing warranty kicks in when a roof fails to function as stated. If the roofing tiles came off in 120 mph winds, but its warranty guarantees it stays on in up to 140 mph winds, then file a warranty claim. Conversely, if the warranty guarantees the roof up to 140 mph winds, but the storm featured 159 mph winds and removed the roof, there's no actionable warranty claim.
Getting a New Roof for Your Home
Eventually, every home needs a new roof. Most homeowners go through at least one roof replacement in their lifetime. Choose your roof type, then your roofer, for the best results.